Grown to Perform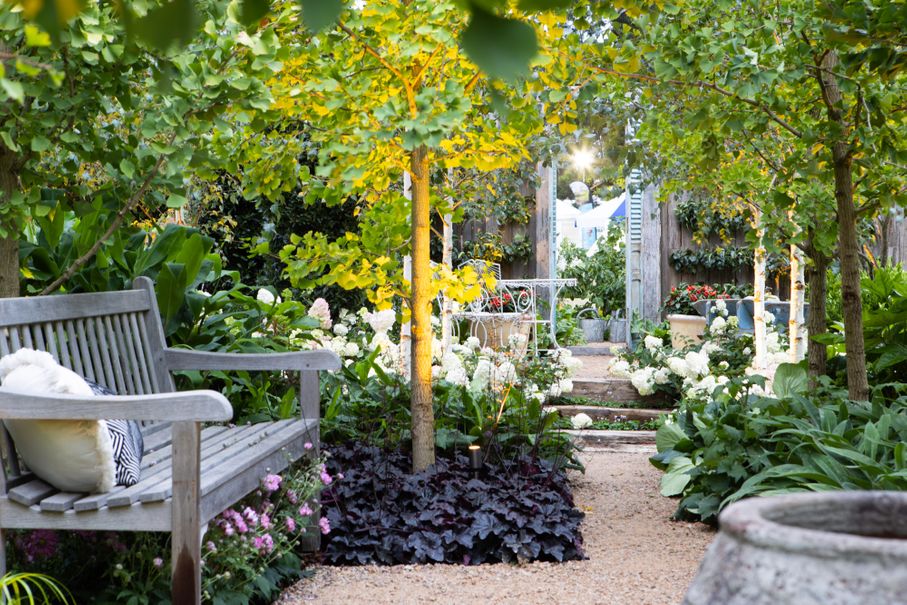 Warners - More than meets the eye
At this year's Melbourne International Flower and Garden Show, Warners Nurseries, in collaboration with Robert Boyle, created the award-winning Show Garden, More than Meets the Eye. It was an opportunity to showcase a range of plantings traditionally grown by Warners whilst incorporating a mix of new plants in an exciting contemporary design. Show Gardens are designed for maximum impact to impress judges and wow garden lovers attending MIFGS. To maximise impact plants are placed closely together to mimic future growth and ensure that the planted areas look full and lush. The reality is, often you would not place this many plants and species together in such a tight space.
There is more than meets the eye to good garden design when considering what to plant where. Overplanting can be a problem in garden design, and is one of the key criteria assessed by judges for the Victorian Master Landscapers awards. How well existing planting has been considered in relation to a new planting scheme, is crucial. Consideration must also be given to the overall effect, and to the scale of plants within the space in relation to the surrounding landscape. Good garden design must allow for future growth: Plants need space to have the chance to reach their full potential.
Visiting established gardens is an inspirational way to see how plants will perform over time and how good design integrates with existing features and previous established plantings. Open Garden schemes are a wonderful way to be able to visit numerous gardens designed by key landscapers and observe how the gardens have matured with time. From a Production Nursery perspective, it is an opportunity to assess how plants we grow perform and review how we can nurture plants to suit their proposed garden use and conditions.
National Gallery of Victoria Womens' Association held their Open Gardens Day in late October and through the generosity of the homeowners, six magnificent gardens were on view. John and Kelly Warner were amongst the hundreds of garden lovers that flocked to the NGVWA opening to look over many of the gardens that Warners have supplied plants to. Indeed, Kelly reminisced that it was likely her father Ross who delivered some of the plants to these gardens when they were being established.
Held every two years Garden Designfest is another opportunity to visit some amazing established gardens. Read more HERE. Open Gardens are mostly coordinated by charities, so it's heartening to know that gate charges are being put to good use.
At Designfest this year, there were some magnificent gardens on display with one taking this article to a full circle: 'The Falls', at Longwood designed by Robert Boyle, was open as part of the regional component in the Euroa district. A grand-scale garden that demonstrates how thoughtful design integrates the old and the new to grow and mature into something extraordinary.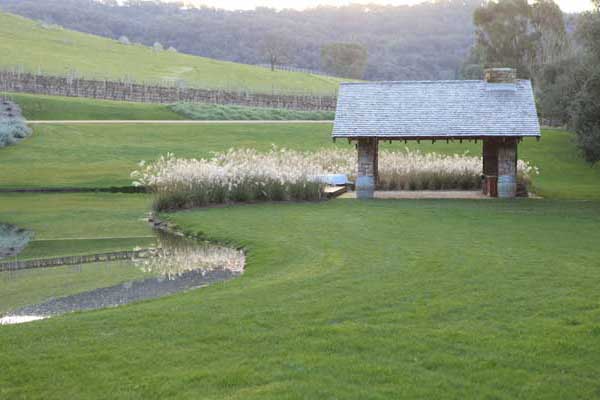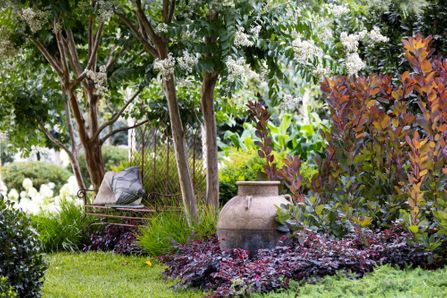 (L) "The Falls" - Image Courtesy Designfest 2022. (R) More than Meets the Eye - Robert Boyle & Warners Nurseries