Plant What Where | Contemporary Classics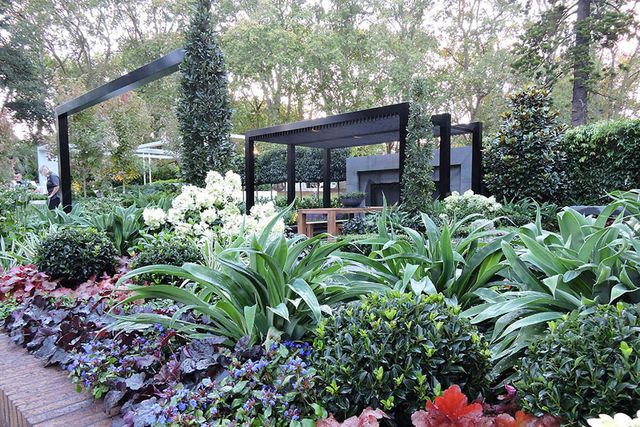 The Greenery Garden - MIFGS 2016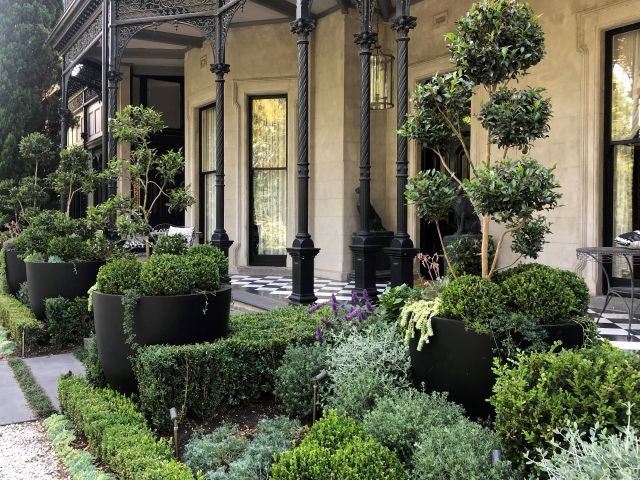 ---
PLANT WHAT WHERE | Contemporary Classics

---
Plants are the true building blocks of great garden design, adding structure, texture, contrast and colour. This is especially true when creating a traditional Classic Garden.
A classic garden has refinement, style, definition and form. Though traditional in style, a Classic garden is also a very contemporary garden – mirroring the complex nature of modern living. Garden design is at its most successful when it features a complex, yet cohesive, series of contrasts. Structural plantings, accented by colour and shape, provide focal points of interest, and provide a sense of continuity and familiarity.
Some inspiring renditions of contemporary classic gardens include the Greenery Garden created by Vivid Design for MIFGS 2016 and by Melbourne Landscape designer Jane Jones both featured here.
Plant Selections:
Azalea 'White Dragon' & 'Scarlet Dragon'
A very hardy variety featuring small glossy, dark green leaves and low spreading habit. Large single flowers are produced en masse in Spring. Will also spot flower in Autumn and Winter.
Camellia sasanqua
A traditional hardy flowering shrub, ideal for screens, hedges, large containers, espaliers, topiary and as general flowering garden plants. The perfect plant for nearly all garden styles with a range of flower forms and colours.
Hydrangea macrophylla
A traditional favourite, these deciduous shrubs dazzle in shades of blue, white, red and pink, which flower in Summer.
Clivia Shademaster Yellow
Fantastic plant for decorative pots or for mass planting under large trees and shrubs. One of the few plants that will flower in heavy shade. Can be used as an indoor/outdoor feature and makes a fantastic cut flower.
Helleborus Orientalis
An evergreen, clump forming perennial with attractive, divided, glossy green leaves. During Winter and early Spring Hellebores produce beautiful, cup shaped flowers.
SMALL TO MEDIUM SHRUBS & HEDGING
Buxus japonica
Traditional variety of box. Small to medium evergreen shrub, with glossy, oval, dark green leaves and clusters of small, pale yellow flowers. Very effective when used for topiary.
Gardenia augusta 'Florida'
Large, highly perfumed, double milky white flowers, which emerge from Spring to early Autumn. Glossy deep green oval leaves. Rounded evergreen shrub.
MEDIUM TO LARGE SHRUBS & SCREENING
Acmena smithii 'Green Screen'
An ideal choice for a quick growing solid screen or windbreak, as its deep green foliage provides a good backdrop for other plants. It can also be grown in large containers or clipped into topiary shapes. Suitable for street plantings and industrial sites.
Lagerstroemia
Lagerstroemia are suitable for small gardens and are often planted as street trees. They perform well in a container or restricted soil spaces. Ideal to inject a splash of colour with their trunks in winter creating a feature. May be planted with Lavender, Rosemary and Wisteria.
Magnolia denudata
Magnolias will make a spectacular feature either planted as a single specimen or in a garden setting, and they blend beautifully with other Winter/Spring flowering plants like Azaleas, Camellias and Hellebores. They have a non- invasive shallow root system that makes them ideal to plant close to the home for Summer shade.
Malus 'Gorgeous'A very attractive Crab apple reknowned for the lovely Spring and Autumn foliage colours. This small tree is suitable for planting in formal gardens and the branching structure of this tree is very attractive during winter.
---
For more inspiration:
Featured projects courtesy Jane Jones & Vivid Design.
And check out our Pinterest page.

PWW Contemporary Classics Poster